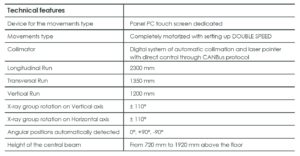 Software Information
Deluxe is the software developed by GMI for the acquisition and processing of RAD images from digital flat panel detector and for the digitization of RF images acquired through imaging chain. The easy user interface, the fast processing and displaying of acquired images, the integration into a RIS-PACS system, the possibility to record emergency patients simplifies daily work routine in the radiological department. Deluxe uses advanced processing algorithms, including fast multifrequencies filters, to obtain the best image quality with minimum dose to the patient.
Deluxe integrating part of GMI systems: Gamma, Alpha Evo, PI. The versatility of Deluxe configurations makes it the best solution for digital diagnostic images management.
Excellent image quality: images are delivered with constant high quality and with very low dose reducing the number of retakes. The processing algorithms provide excellent image quality without need of further adjustments. Filters are adapted for each anatomical region.
Integration possibilities: Deluxe manages different flat panel detectors and different generators, setting exposure parameters directly without need of a separated console.
User friendly interface: the software is easy to use and the protocols can be translated in any language. Many options are configured according to the user needs.
Full Dicom compatibility: DICOM query SCP, Modality worklist, Print e storage SCU. Deluxe is integrable into RIS-PACS systems.
Fast image acquisition and processing: images are acquired, processed and displayed in a few seconds. After the acquisition the user can perform all the basic operation on the images.
Local Database: DeLuxe is endowed with a local DB where images are stored. Studies can be opened again to display images or add new ones.